This post lists the recommended books for IAS Prelims exam, popularly known as CSAT. All the IAS Books are the best ones for the topic they are suggested. A brief explanation is also provided for recommending a particular book. IAS aspirants are encouraged to click on the links of the IAS books to know about the books for IAS in greater detail.
Books for Basics of IAS Exam
This book lists the Preliminary as well as Mains syllabus in complete detail. The entire pattern of the civil services exam is present in this book. Syllabus of all the subjects available in Mains exam is also provided. Get the IAS Syllabus before getting any other book.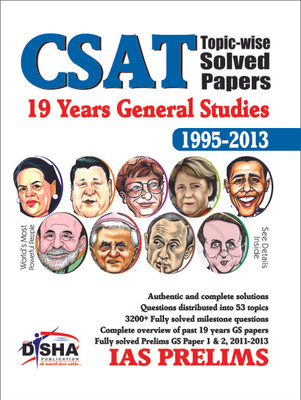 This book contains past 18-20 years prelims solved papers arranged topic-wise. Extremely useful for testing your preparation of a topic after completing that topic. Also helps to know questions from which topics are being asked more relative to other topics. Solved Papers is the second book you should get.
 Reference Manuals for Paper 1 and Paper 2
Next come reference manuals containing information on all topics of prelims that you can refer from one source and which also help you to revise quickly before the Prelims.
Tata McGraw Hill is a well known and trusted name in education publishing. They have a wide range of books on UPSC IAS exam, the foremost being GS Manual for Paper 1 that covers all topics listed under the Prelims syllabus and hundreds of test questions on every topic. Full length tests are also included. Quality of material is very high and so is the accuracy of information provided. Get GS Manual before starting your IAS preparation.
Paper 2 of IAS prelims is often termed CSAT (Civil Services Aptitude Test). The good part about paper 2 is you need to refer just a single book for it. TMH CSAT Manual doe the job nicely. Covering every single topic under paper 2, it also contains many practice questions on decision making, logical reasoning, basic numeracy, data interpretation, English language, comprehension and others. The explanation of topics is very reader friendly as compared to other reference manuals for paper 2. Grab the CSAT Manual to get started with your paper 2 preparation.
Reference Books for IAS Prelims Paper 1
Reference books help to quickly gain knowledge of current events and help boost your general awareness. You must know that of late UPSC is asking more and more general awareness based questions in Prelims paper 1.
Manorama Year Book is the best reference book available for quickly boosting your GK. It contains up-to-date information on topics like Indian states, countries of the world, science panorama, famous personalities, books and authors, sports achievements, inventions and discoveries, famous personalities and many more topics. Manorama Year Book is the trusted source of questions referred by UPSC paper setters for IAS preliminary exam.
India 2014
India 2014 is published by Publication Division of Ministry of Information & Broadcasting. Needless to say, it is authentic source of all important governments data like Census, schemes, projects, pacts, agriculture, commerce etc. India 2014 is highly recommended book for IAS Prelims as well as Mains for obtaining facts and data.
History Books for IAS
Books for covering history syllabus of Prelims paper 1. History syllabus includes Ancient, Medieval and Modern Indian history up to India's independence.
NCERT Books
Recommended NCERT books are class IX and class X books. Alternatively, you can refer RS Sharma's Ancient India for covering ancient Indian history syllabus. RS Sharma is the author of the old syllabus NCERT text book, which though highly recommended, is unfortunately out of print. Good news is, he has authored a book on ancient India that goes further than the NCERT book.
The next book is Satish Chandra's Medieval India that covers the period from 6th century AD till the dawn of British rule in India. He is also the author of the NCERT text book on Medieval India which is also out of print and this book is a recommended alternative for covering Medieval Indian history.
India's Struggle for Independence
This is a iconic book for studying modern Indian history. Authored by Bipin Chandra and other other renowned historians India's Struggle covers all facets of British rule in India right till 1947. It is a must read book for GS Mains paper as well.
Books for Indian Economy
Indian Economy by Ramesh Singh and published by TMH is probably the best book for covering the economy syllabus for IAS prelims. It is not only updated frequently but covers all concepts and concerns in Indian economy. It has a rich collection of facts and figures pertaining to the latest economic data. After reading Indian Economy, you no longer need to refer bulky books like Datt and Sundharam.
Polity Books for IAS
This book is authored by Subhash Kashyap, former Parliamentary Secretary and is the best source for understanding the Indian constitution. It contains all amendments as well as schedules. The language is very simple to understand even for a lay user. Our Constitution is the first book you should refer for polity syllabus of Prelims and Mains.
Our Parliament is also authored by Subhash Kashyap and contains all the Parliamentary procedures and committees at a glance. All the motions of parliament and different sessions are explained in detail in this IAS book. Our Parliament is a must read book for IAS Prelims and Mains GS syllabus.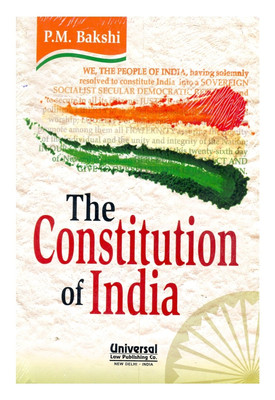 For preparing Indian polity, you also need to know the bare articles since questions in Prelims are directly asked on the bare articles of Indian constitution. Constitution of India by PM Bakshi lists all the articles as is along with all the amendments and important judgements of Supreme Court relating to every article. This book cannot be ignored for IAS prelims preparation.
Geography IAS Books
Apart from reading NCERT class XI and XII books, the following books for Geography are highly recommended.
A good atlas is a must have for tackling map based questions in Prelims. Oxford Student Atlas represents the latest geographical data of India and world accurately and will help you secure anywhere between 5-10 questions in Prelims provided you practice regularly from the Oxford Atlas.
Certificate Course in Geography
This book by Goh Cheng Leong is a legend among IAS aspirants. It is the best source for Physical geography concepts for Prelims and is a trusted reference book for UPSC paper setters. The language is also surprisingly easy to understand. Certificate Course is highly recommended book for IAS geography syllabus.
Science Books for IAS
For covering science syllabus, you should refer NCERT class IX and X books. TMH GS Manual also contains very detailed information relating to general science and is a good alternative to NCERT books.